Are you looking for the BEST DOMAIN to promote a charitable or government lottery?  WinBIG.ca is easy to remember and spell.
*This is a premium domain – CLICK HERE to go to Make an OFFER PAGE
WinBIG.ca was put online by Dream Home winner Ric Wallace to help the Canadian lottery player by providing access links to charitable lotteries, government run lotteries, and other products and services. Ric Wallace was the first Canadian to be featured on TLC's The Lottery Changed My Life – a US network show about various lottery winners. Click Here to see next air date for the Country Millionaire episode. All lotteries in Canada are regulated by various governments, and all potential players are advised to Know the Rules before playing.
Domain Name:
WinBig.ca
*Price:
 Visit the

WinBIG.ca offer page – CLICK HERE

ALL OFFERS CONSIDERED

Possible Uses:
 lottery, contest, charitable lottery
What's Included:
 Website shell – photos in postings not included.
Additional Information:
Currently used to promote charitable lotteries and government lotteries in Canada. Visit active website – CLICK HERE
We also have the Twitter Account @WinBIG411.
*Plus Applicable Taxes for Canadians: A website can work 24-7-365 days a year, with no wages, vacations, breaks, benefits, sick leave, etc. Prices subject to change. Please use our contact form for current pricing. A well-designed website tied to this domain can outperform any employee. Act fast before your competitor does.
Our Dream company cars NOT included.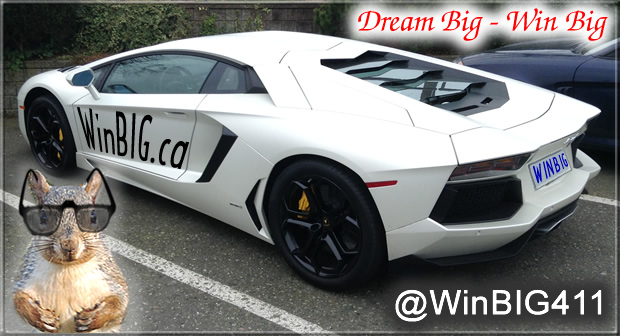 We wish our visitors GOOD LUCK and hope they WIN BIG.